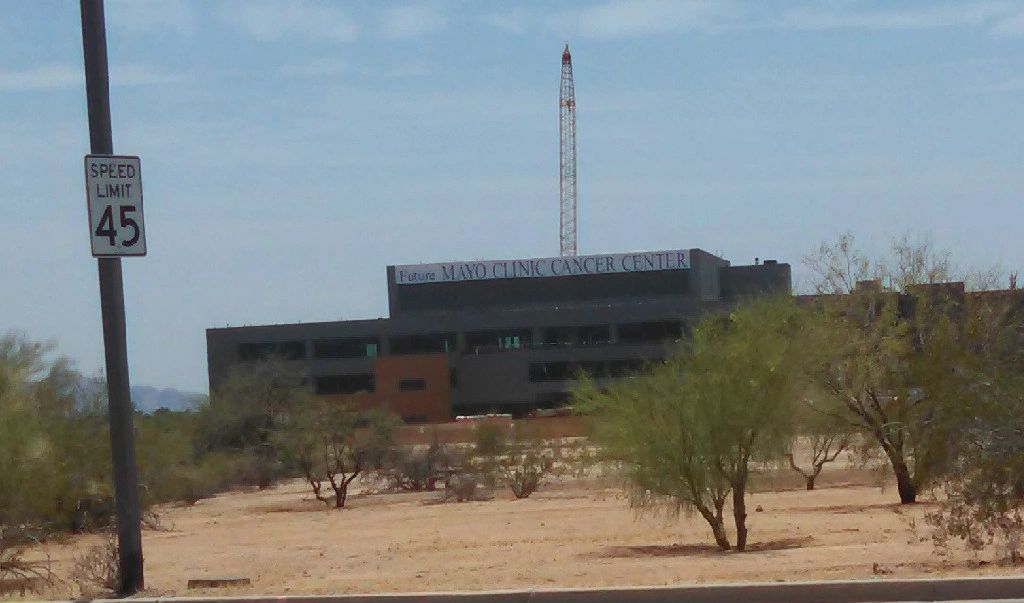 Proton Beam Therapy Program

Proton Therapy Facilities


Proton therapy facilities will be constructed at Mayo Clinic campuses in Arizona and in Minnesota. Each facility will have four proton beam treatment rooms equipped with pencil beam scanning and large machines (synchrotrons) for generating the proton beams.
Mayo is investing more than $370 million in the projects, from Mayo's capital budget and benefactor support. Mayo's facilities are one of the few new proton therapy projects being financed by a medical center.
The treatment capacity of each four-room facility is expected to be about 138 patients a day, or about 1,240 patients each year.
During the building phase of each project, a total of 500 construction jobs will be created. When fully operational, the proton therapy program will employ more than 250 new staff members, including 22 doctors and 29 physicists.
Proton Beam Therapy Program — Arizona campus


The proton therapy facility will be located east of the Mayo Clinic Specialty Building on the Phoenix campus. The Arizona Proton Beam Therapy Program is expected to employ about 130 staff members, including 13 doctors and nine Ph.D. physicists.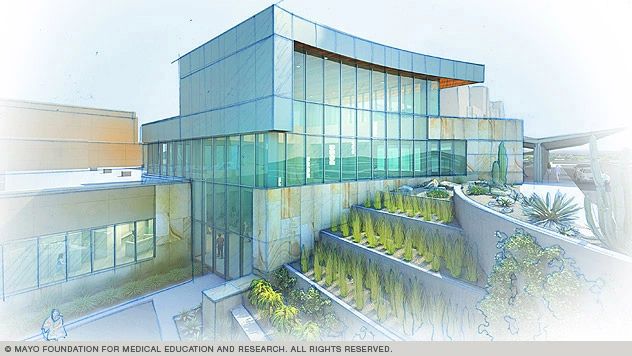 Architect's rendering of new proton beam therapy facility in Arizona.
About Mayo Clinic's Program


Mayo Clinic's Proton Beam Therapy Program is a new addition to the Mayo Clinic Cancer Center, the only national cancer center, with sites in Arizona, Florida and Minnesota.
The program differs from most other proton therapy programs in the United States in that it will exclusively feature intensity-modulated proton beam therapy, using pencil beam scanning, an advance over current radiation and proton therapy methods because its beam conforms more closely to the tumor, better sparing surrounding healthy tissue from harm. All eight treatment rooms at Mayo Clinic's two facilities will feature this advanced technology.
The first treatment rooms will be available for patients in Rochester in the summer of 2015 and in Arizona in 2016. All eight treatment rooms will be operational by 2017.
Mayo's facility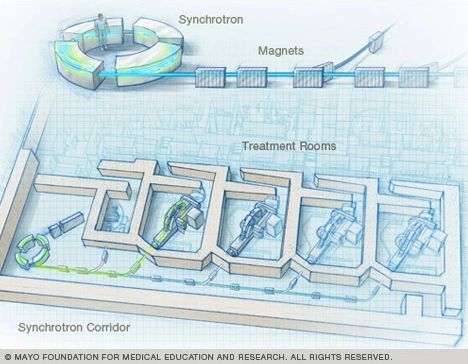 The synchrotron generates and accelerates the proton beam for the treatment rooms. Radiation is synchronized with the patient's breathing.
Research
One of Mayo Clinic's priorities is to advance the science of proton therapy, which is still in its infancy. Mayo Clinic researchers at the two proton beam facilities will conduct joint clinical studies as a unified program. Clinical outcomes for all Mayo patients will be entered into one central database to improve care models and services for cancer patients. Mayo also plans to foster collaborative research with other centers worldwide.


____________________________